Dressage trials for all classes ended today at Baborówko Autumn Show 2021. Tomorrow the riders in the highest-ranked classes will face the cross country.
Mateusz Kiempa (POL) riding LASSBAN RADOVIX took the lead in the highest-ranked class of the show – the CCI4*-S, for the prize of LOTTO. Second place belongs to Amanda Staam (SWE) with CORPOUBET AT, and Libusa Lübbeke riding CARAMIA 34 is currently third.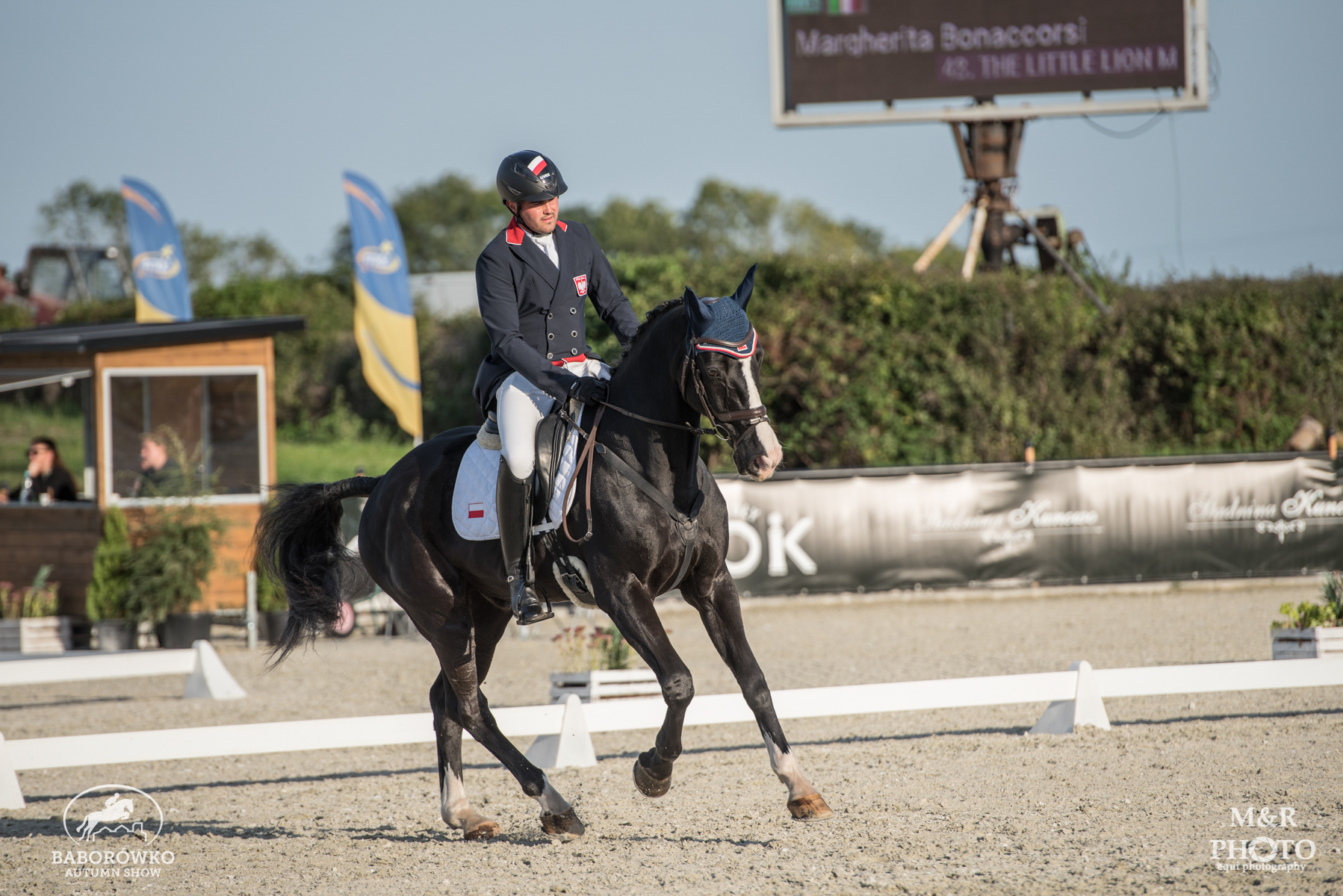 German riders have dominated the CCI2*-S, presented by the the Wielkopolskie voivodeship Local Government. The best result belongs to Josephine Schnaufer-Völkel (GER) with GINGER SPICE 3. Jerome Robine (GER) sits in second riding AVATAR 42, and third place belongs to Pia Münker (GER) with CASCABLANCA. This rider is also the leader in the CCI1*-Intro, presented by Generali, here riding BALOU'S MASCOT M. Mateusz Pabijanek (POL) is now second with KALMA, and Stella Maria Stöhr (GER) holds third with CATWALKER. 
Tomorrow is cross-country day for the main classes at Baborówko Autumn Show 2021. The CCI4*-S, CCI3*-S, CCI2*-S, CCI1*-Intro and CNC1* will be transmitted online at the show's website (www.equestrian.baborowko.pl), facebook profile (https://www.facebook.com/baborowko.equestrian) and Świat Koni. 
Livestream schedule: 
Saturday
9.00 – CCI2*-S for the prize of the Wielkopolskie voivodeship Local Government.
11.25 – CCI3*-S for the prize of KUHN Maszyny Rolnicze
13.25 – CCI4*-S for the prize of LOTTO
15.30 – CNC1* for the prize of Equipe
16.00 – CCI1*-Intro for the prize of Generali Polska
Sunday
10.30 – CCI2*-S for the prize of the Wielkopolskie voivodeship Local Government
13.15 – CCI4*-S for the prize of LOTTO 
15.45 – CCI3*-S for the prize KUHN Maszyny Rolnicze
Online results are available on: https://zawodykonne.com/zawody/199/3